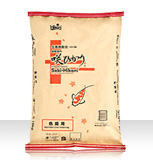 Rich in biocides (Hikari Bacteria)
Enriched with live bacteria (Hikari Bacteria) Sakihikari contains an abundance of Hikari Bacteria (a type of Bacillus), which are live bacteria that work in the intestines like Bifidobacterium in yogurt. Hikari Bacteria lives in the intestines and breaks down the grains into an easily digestible form.

In general, Spirulina is said to be the most effective in raising the color of the scarlet disc of Nishikigoi, and its effectiveness has been proven in numerous studies. In our Sakihikari (food and feed) for color raising, we carefully select and use only spirulina that is particularly rich in zeaxanthin, which is a component of color raising.
Guaranteed ingredients
| Protein | Lipid | Coarse fiber | Water | Mineral content | Phosphorus |
| --- | --- | --- | --- | --- | --- |
| over 40% | over 6.0% | under 2.0% | under 10.0% | under 15.0% | over 1.2% |
Lineup by grain size and volume
| | 2kg Float | 5kg Float | 15kg Float | 20kg Sink |
| --- | --- | --- | --- | --- |
| SS | | | ◯ | ◯ |
| S | ◯ | | ◯ | ◯ |
| M | ◯ | ◯ | ◯ | ◯ |
| L | | ◯ | ◯ | ◯ |