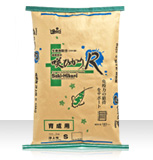 High-quality feed with R extract to maintain immunity
This product is based on the Sakihikari formula and contains a new ingredient – R extract – to give more consideration to maintaining the immunity of Nishikigoi than conventional products.
Supporting the maintenance of immunity
In addition to the formula of "Sakihikari Grower", we have added a new compound metabolic extract (R extract) of one type of Bacillus natto, one type of lactic acid bacteria, and two types of yeast bacteria. The synergistic effects of Hikari Bacteria (probiotics) and R Extract (biogenics), which are activated in the intestines, maintain the balance of intestinal bacteria and support the maintenance of the natural immunity of healthy Nishikigoi.
Excellent feed efficiency
Live Hikari Bacteria break down the grains in the intestines of Nishikigoi into a state that is easy to digest and absorb, and the necessary nutrients are fully absorbed and utilized, resulting in high feed efficiency. Does not pollute the water
Hikari Bacteria is excreted alive from the intestines of Nishikigoi and breaks down feces. This reduces water quality deterioration and clogging of filter media.
When used in combination with other feeds, the effect of R extract can be expected if the ratio of Sakihikari R is about 50% or more. In addition, to obtain a synergistic effect with Hikari Bacteria, we recommend using it together with the Sakihikari series.
Guaranteed ingredients
| Protein | Lipid | Coarse fiber | Water | Mineral content | Phosphorus |
| --- | --- | --- | --- | --- | --- |
| over 40% | over 6.0% | under 3.0% | under 10.0% | under 15.0% | over 1.0% |
Lineup by grain size and volume
| | 2kg Float | 5kg Float | 15kg Float | 20kg Sink |
| --- | --- | --- | --- | --- |
| SS | | | | |
| S | | | ◯ | |
| M | | | ◯ | |
| L | | | ◯ | ◯ |