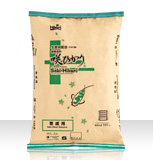 Rich in biocides (Hikari Bacteria)
Contains an abundance of live bacteria (Hikari Bacteria) Sakihikari contains an abundance of Hikari Bacteria (a type of Bacillus), which is a live bacterium that works in the intestines like Bifidobacterium in yogurt. Hikari Bacteria lives in the intestines and breaks down the grains into an easily digestible form.


Sakihikari (food and bait) for growing fish is a well-balanced blend of animal and vegetable ingredients as an important source of protein for building the muscles, blood, and tissues of fish. In addition, the amount of carbohydrates and fats, which are easily converted into energy, has been adjusted so that some of the feed protein, which is conventionally consumed as kinetic energy by fish, is effectively used for growth, thus supporting healthier growth.
Guaranteed ingredients
| Protein | Lipid | Coarse fiber | Water | Mineral content | Phosphorus |
| --- | --- | --- | --- | --- | --- |
| over 40% | over 6.0% | under 3.0% | under 10.0% | under 15.0% | over 1.0% |
Lineup by grain size and volume
| | 2kg Float | 5kg Float | 15kg Float | 20kg Sink |
| --- | --- | --- | --- | --- |
| SS | | | ◯ | ◯ |
| S | ◯ | | ◯ | ◯ |
| M | ◯ | ◯ | ◯ | ◯ |
| L | | ◯ | ◯ | ◯ |