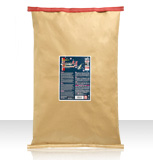 Rich in biocides (Hikari Bacteria)
Rich combination of live bacteria (Hikari Bacteria) Sakihikari contains an abundance of Hikari Bacteria (a type of Bacillus), which are live bacteria that work in the intestines like Bifidobacterium in yogurt. Hikari Bacteria reside in the intestines and break down the grains into an easily digestible form.

This high-performance special feed contains a large amount of carefully selected spirulina that prevents yellowing of Nishikigoi skin and pursues color fading performance to the limit. his is a high performance special feed that is formulated with a large amount of spirulina, which is carefully selected to prevent yellowing of the skin of Nishikigoi.
Guaranteed ingredients
| Protein | Lipid | Coarse fiber | Water | Mineral content | Phosphorus |
| --- | --- | --- | --- | --- | --- |
| over 45% | over 5.0% | under 2.0% | under 10.0% | under 15.0% | over 1.2% |
Lineup by grain size and volume
| | 2kg Float | 5kg Float | 15kg Float | 20kg Sink |
| --- | --- | --- | --- | --- |
| SS | | | | |
| S | | ◯ | ◯ | |
| M | | ◯ | ◯ | |
| L | | ◯ | | |